Dallas Tax Attorney Joe Garza Hosts Production Legend Gray Frederickson
On July 25, 2013, Dallas tax attorney Joe Garza hosted the Cinema Management Group (CMG) for one of its most prestigous speaking events. The film organization acquired legendary film producer Gray Frederickson to recount his experiences working with some of cinema's greatest personalities, as well as remark on the state of the medium today. As Executive Vice Presideng of CMG, the legendary producer hoped to attract interest in the organization's film fund, and help improve the quality of the films that are being made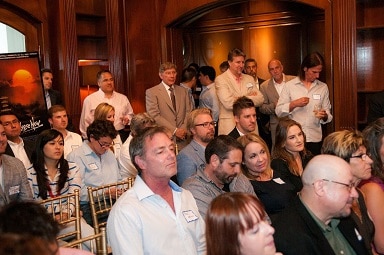 Frederickson delighted the audience that filled Joe Garza's mansion with stories of how he began what would become one of the most successful and iconic production careers that the industry would ever see. Born in Oklahoma, Frederickson's higher education would land him in Switzerland, where he would receive a proposition for working at a construction company in Rome. Rome, at the time, was the location where many great directors would film their masterworks, and was booming with cinematic activity. "I fell in love with Europe", he would say – an affection that would lead to a friendship with director Francis Ford Coppola, resulting in some of the director's most seminal artistic works.
The audience at Joe Garza's mansion eagerly lent its full attention to Frederickson's incredible stories about his legendary comrades in the mid-20th century film industry. Guests were left incredulous at anecdotes filled with names like "Coppola", "Spielberg", "Brando" and "Pacino", among others. The long-time producer would also discuss some of the years where his reputation was still developing, and he and his colleagues had to virtually "smuggle" their films into Cannes in order to circumvent the festival's exorbitant entrance fees.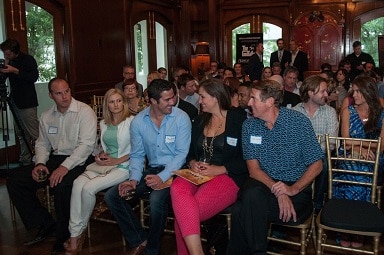 In addition to almost surreal accounts of production mishaps on films like "The Godfather" and "Apocalypse Now", Frederickson whimsically shared some practical business advice that was, in part, responsible for his success. "Most of the money I earned was spent paying for a Maserati", he mentioned. Of course, the car was simply a ruse intended to communicate success and power to interested investors, but it seems to have ultimately worked in his favor.
"It's always a pleasure to be able to speak with Gray", remarked Joe Garza, a friend of Frederickson and host of the night's activities. "So I'm certain the audience enjoyed hearing about his history in the industry."
A Dallas Tax and Asset Protection Attorney, Joe Garza regularly lends his home to various philanthropic and political events in the city. He is lead partner at the lawfirm Garza & Harris, and has over 30 years of successful legal experience practicing in the Dallas, TX area.
Frank Stafford